I found this bar cart months ago and for some reason, my bathroom, not the kitchen or dining room, immediately came to my mind.
Soon, I will do a full bathroom update but here is what our bathroom looked like BEFORE:
Yeah, pretty bad.
You see, our house sat empty for three years and there was a leak in the roof that rotted out the ceiling and floor (You can read the entire story…well, almost all of it…..here.).
Anyway, back to the bar cart.
This is what IT looked like before:
But for $10, I knew it had potential.
Unfortunately, it sat outside for months before I could do anything to it.
Bless its heart, it even endured a snow.
I finally got around to painting it this week. I tried and tried to scrape off as much as I could but I didn't have much luck.
I ended up just spray painting it with gray primer then spraying on two coats of Azure Snow.
THEN, my savior…this fabulous wrapping paper that I found at TJ Maxx! My friend, Tammy, always uses wrapping paper in so many creative ways so I grabbed it a few nights ago when I was checking out. Later that night, as I was walking up to my house, I saw the half painted bar cart still outside and it clicked!
The perfect little placemats!
I thought about mod podging (if that's a verb) them down, but instead just laid it down on top.
I found this PRECIOUS FREE PRINTABLE  that I loved and put it in a frame on top of burlap from My Fabuless Life . I love this little saying because when Russ and I were on our honeymoon, we ate at this FANTASTIC little café every day for lunch and a bird would join us and eat a fry every day! This reminds me, of course, of the delicious jerk calamari and the blue ocean water….
Easy as pie!
What do you use as storage in the bathroom?
Linking up here: http://www.homestoriesatoz.com/tutorials/tutorials-tips-link-party-149.html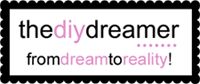 Read more at http://diyshowoff.com/buttons/#AiAdeQ6DDbsMDx6A.99