Happy Friday, friends!!
I cannot tell you what it means to me when you comment and share your thoughts with me! Thank you for your kind words, for taking the time to stop by, and for accepting our home into this amazing community. Your incredibly kind comments on Tuesday's post reminded me how special this community truly is!
Today, I wanted to share how we made our little yardstick star!  It was so easy make and now it's one of my favorite projects that I may leave up all winter!
Years ago, when I first discovered Pinterest, I pinned this adorable little boy holding this star but sadly, it was a broken link!
This year, I decided we could do this. Of course, when browsing Pinterest, I found Newly Woodwards' really COOL Marquee star. Do you follow Newly Woodwards? You should!  She made the most beautiful star to hang outside her red barn!
But y'all, I could NOT find round light bulbs in a store (I think she provided a link but I needed them quickly…like yesterday!) to make an actual marquee light.
So instead, I grabbed some white lights for $1.99 at my Lowe's and decided I would just have to wrap them around the star instead!
While I was there, I picked up these 98 cents yard sticks and put a couple of coats of paint on them! (I used Valspar's white outdoor spray paint.)
(Sorry for the dark iPhone photo! Obviously, I did this while the boys were in bed!)
I let them dry overnight (not because I am so patient but because it was raining!). If you know me, you know this drove me crazy because I was ready to hang it up right then!
I was also too impatient to wait for Russ to get his drill (he was at practice) so with a hammer and five nails, I put these little guys in the shape of a star.
I think the hardest part was wrapping the lights around it…only because I used a tiny nail in each of the points so it was a little bit flimsy trying to hold on to it while wrapping lights around it.
With a nail in the wall and an outlet below, we were set to go!
I promise, y'all, this isn't hard at all! I can't believe I waited three years to do it!
If you're interested, you can check out our full Christmas home tour here!
And there's one more day of Home Tours that you have to check out! Truly stunning homes!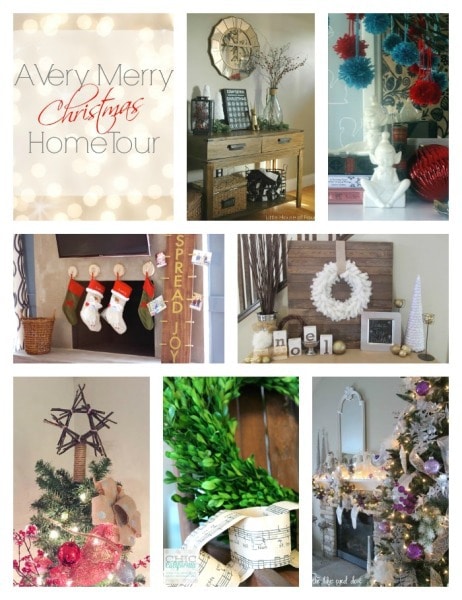 Designer Trapped in a Lawyer's Body
Now, I need to know…what projects have you pinned that you are going to do this Christmas?
Linking up here: Tatertots and Jello | Place of My Taste | House by Hoff