One of the best things about a small town is how much we love each other.
We think of each other often and we look for ways to strengthen each other, make life easier, and lift each other up.
When I think of Belton, I think small town. Granted we have so many traditions: our history of textile mills, the historic train station and the beloved Standpipe. Each year hundreds of families flock to our small town for the largest youth tennis tournament in the Southeast. The Palmetto Championships alone hold steep tradition.
So I struggled to put my finger on how to exemplify this when Heather, from the ever-so-amazing, Southern State of Mind, asked me to be a part of her Southern Road Trip.
And I kept going back to Grits and Groceries. While famous—having been featured in Southern Living, numerous newspapers and countless publications—it is the thoughtfulness, the no-fuss atmosphere that makes Belton home.
The food is delicious. Of course. New specials everyday but a favorite is the Pasta Peach Chicken.
The atmosphere is where I draw my inspiration, for it is what I want to create in my own backyard. And thus, the main reason I chose this place—so that you, too, could leave feeling inspired by the time they take to notice their people—not the details that take up space. Heck, they move everything out of the way to ensure everyone can fit.
And when you walk in, they know you—or they know your mama's mama or your great aunt's sister.
If you are a regular on their Thursday evening dinners, they even have your drink of choice waiting for you, or your own specific table.
Joe and Heidi, the proud owners, relocated here after Hurricane Katrina. And could have been devastation for their entire lives, instead changed the lives of our town. Because their vision for thoughtfulness is what we aspire to do each and everyday. Grits & Groceries is more than a just a restaurant.
We eat here. We relax here. We love here.
We even feed the chickens and goats here.
We hold out our hands because at the end of the day, we are all part of this small town.
Now to be sure to head on over to Atlanta to meet my sweet friend, and the QUEEN of Southern Hospitality, Rhoda!
THE GREAT SOUTHERN ROAD TRIP ITINERARY
Southern State of Mind {Atlanta, GA} | Restless Arrow {Belton, SC}
Southern Hospitality {Marietta, GA} | Our Southern Home {Caswell Beach, NC}
TUESDAY ROUTE: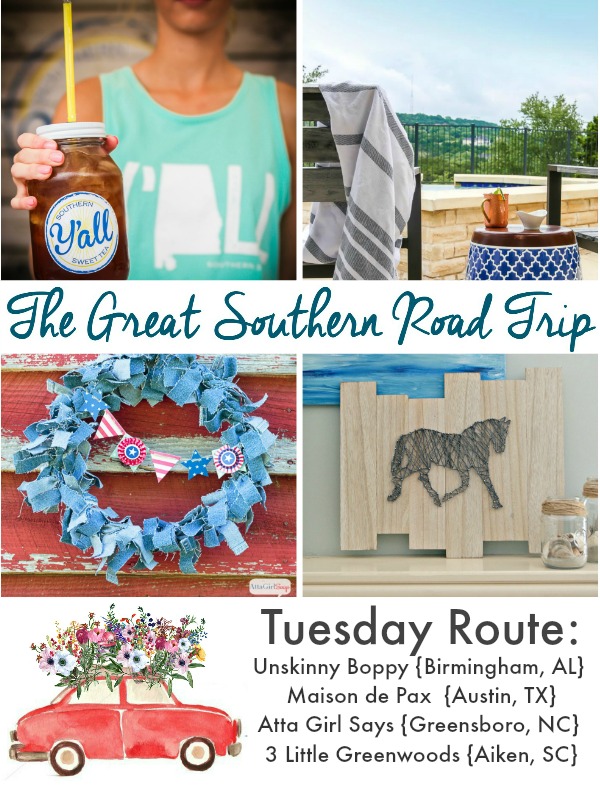 Unskinny Boppy {Birmingham, AL} | Maison de Pax {Austin, TX}
Atta Girl Says {Greensboro, NC} | 3 Little Greenwoods {Aiken, SC}
WEDNESDAY ROUTE:
Dixie Delights {Savannah, GA} | Slightly Coastal {Fernandina Beach, FL}
Uptown Acorn {Grand Isle, LA} | The House of Wood {Nashville, TN}
THURSDAY ROUTE:
11 Magnolia Lane {Southern Pines/Pinehurst, NC} | The Turquoise Home {Franklin, TN}
Duke Manor Farm {Pendergrass, GA} | Domestic Charm {Charlotte, NC}