Warning: what you're about to see is not styled, nor is it perfect. What you are about to see looks just like it was before I started taking pictures. But, we love it. And we are so excited for what's to come.
Whew. Okay, now that that's out of the way, WELCOME!! If you are new here, my husband and kiddos and I live in a VERY old house that we have been renovating slowly over five years! And this year, we decided to tackle a garden space….specifically a GREENHOUSE made of windows from our house and several other places!
But, like any other project that's worth doing, it's taken a lot of time. We planned for over a year…we started this in March and as the budget allows (since it costs a LOT more than I thought it would!) we are making it our very favorite space.
So when I do the entire reveal, I cannot wait to put together a video of all the little time lapses we did. Those were SO fun. If you join us on Instagram, you can find those in my highlights. I had way too much fun making them and now, it's sooo fun to see where this space started!
Here we are!
Our favorite little space….
We ate dinner out here last night and every day as I come out here to water, there's just something about it, you know? We started these plants from seeds and now that we've built these raised beds and a fence (because we have A SERIOUS deer problem—yes! In the city limits!), it is truly incredible to watch them grow and bloom.
There is just something special about a slower pace, getting your hands really dirty and watching the kids' excitement when they see their seeds they planted pop out of the ground.
The wonder of it all.
The beauty of these tiny moments.
The light that shines through the greenhouse.
The time we have spent here.
We started with a frame then slowly added windows piece by piece.
Then, we took a mantle we took out of the boys' room because we knocked down a chimney to open our kitchen (yep, knocked down the ENTIRE CHIMNEY...still blows my mind). I digress. So we took the mantle we had saved and now, I love these clay pots that held our tomatoes (the only thing we didn't start from seed).
These shelves we made from an old picnic table were perfect for our trays of seeds and then Russ added this little table that we made from a board I found on the side of the road and some balusters from Lowe's!
Finally, we are slowly adding pea gravel. Since it's a little pricey, we will add it over time. I should've asked for it for Mother's Day but instead we snuck down to the beach and that is one of my favorite things to do—travel with just my people, especially on a whim.
So there we are! Slowly but surely, it's getting there. SOO many more details to share with you but that will come when it's allll ready for the reveal. We still need to add pea gravel, build a gate, figure out table seating, and just clean up a bit! But since 98% of you said you wanted an update, that's what we did!
And I'm so excited to have it documented. Y'all are just the best. Thanks for sticking around as I blog about everything from the dirt in our backyard to beautiful babies I have the honor of taking pictures of. It truly means so much to me.
 Now, be sure to head over to these outdoor blog posts! Such gorgeous inspiration!

How to Create an Outdoor Living Space by Happy Happy Nester | Patio Makeover Ideas by Modern Glam | How to Set the Perfect Outdoor Table by My 100 Year Old Home | DIY Umbrella Cover with Pom Poms by Hallstrom Home | Succulent Pot by Craftberry Bush

A Greenhouse Update by Amber Tysl | Summer Planter Centerpiece by Clean and Scentsible | Teacup Fairy Village Gardens by Life is a Party | DIY Outdoor Projects to Transform Your Yard by The Happy Housie | DIY African Wax Print Fans by Casa Watkins Living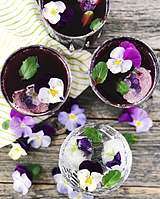 Outdoor Entertaining with Sparkling Pomegranate Cocktails and Edible Flower Ice Cubes by A Pretty Life